King Bros. has been providing dependable and affordable wastewater treatment since 1973. When selecting an installer it is important that the company is experienced, knowledgeable, and has good work ethic. Wastewater treatment today is more high tech and functional than in previous years. Today's septic systems must meet stringent regulations and function properly long term. King Bros. has far surpassed the competition as being a full service septic provider. We work closely with our manufactures to provide our customers with the best possible service.
On Lot , Off Lot, Mound systems, commercial systems, maintenance and repair of your current system, we are sure King Bros. quality work will speak for it's self. Our loyal and dedicated staff is second to none when it comes to your septic system needs.


Q: WHY DO I HAVE THIS TYPE OF SYSTEM?
A: THE OFF-LOT SYSTEM WAS DESIGNED FOR PLOTS OF SOIL THAT WERE EITHER TOO SMALL FOR AN ON-LOT (SYSTEM WITH A LEACH FIELD) OR THE SOIL DIDN'T HAVE GOOD PERMEABILITY (HOW THE SOIL ABSORBS WATER)
Q: WHAT IS THE RESPONSIBILITY OF THE "SERVICE PROVIDER"?
A: KING BROS. INSTALLS APPROXIMATELY 70-100 SEPTIC SYSTEMS EVERY YEAR. OUR TECHNICIAN'S JOB IS TO INSPECT YOUR SYSTEM AND LOOK FOR POSSIBLE PROBLEMS SUCH AS A PLUGGED SHAFT ON THE AERATOR, CORRODED ELECTRICAL WIRES, EMPTY CHLOR/DECHLOR FEEDER TUBES, AND PLUGGED INLETS AND OUTLETS OF TANKS.
* IT IS THE TECHNICIAN'S JOB TO LET YOU KNOW IF THERE IS A PROBLEM. OPERATIONAL INSPECTIONS ARE DONE SEMI-ANNUALLY *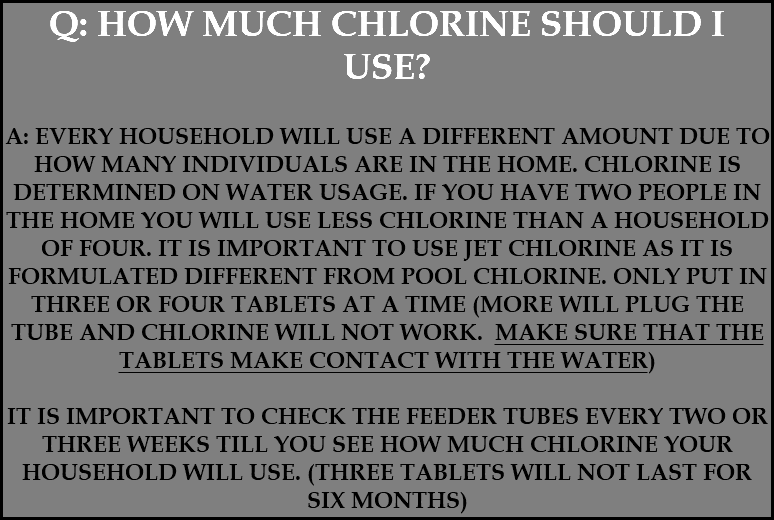 Q: IF I NOTICE A PROBLEM OR HAVE A QUESTION ABOUT MY SEPTIC SYSTEM SHOULD I WAIT TILL THE NEXT INSPECTION?
A: DO NOT SILENCE AND IGNORE YOUR ALARMS, CALL US! ITS BETTER TO BE SAFE THAN SORRY, AND WE WOULD RATHER FIX THE PROBLEM WHILE IT IS SMALL AND MANAGEABLE RATHER THAN LETTING THE PROBLEM ESCALATE UNTIL IT IS A MUCH BIGGER DRAIN ON YOUR WALLET. EXPENSES CAN RANGE UP TO $1,000 IN DAMAGES IF IGNORED. CALL KING BROS. AS SOON AS POSSIBLE SO WE CAN GET THE PROBLEM CORRECTED.
Q: WHAT IS THE PURPOSE OF THE JET AERATOR AND DOES IT HAVE TO RUN CONTINUOUSLY?
A: YOUR JET AERATOR (THE MOTOR THAT SITS DOWN IN YOUR TANK) PUSHES AIR INTO YOUR SYSTEM.
IT IS RECOMMENDED BY THE MANUFACTURER THAT
IT RUN CONTINUOUSLY.
Q. HOW OFTEN DO I HAVE TO PUMP MY SEPTIC SYSTEM.
A. IT IS REQUIRED BY THE TRUMBULL COUNTY HEALTH DEPARTMENT THAT YOUR SEPTIC BE PUMPED EVERY THREE YEARS. JUST BEFORE THE PUMPER TRUCK PUMPS YOUR SYSTEM SHUT OFF YOUR AERATOR, AFTER HE LEAVES IT IS IMPORTANT TO PUT A BIO-TREATMENT INTO THE SEPTIC TANK TO START GOOD BACTERIA GROWTH. DON'T TURN YOUR AERATOR BACK ON TILL THE TANK IS FILLED WITH WATER. THE AERATOR SPINNING FREE COULD HARM IT! TRY TO SCHEDULE YOUR PUMPING DURING THE SUMMER MONTHS, IT IS JUST MORE CONVENIENT.
Q: WHAT IS THE CAPACITY OF MY SEPTIC SYSTEM?
A: YOUR OFF-LOT SYSTEM IS ABLE TO TREAT 360 GALLONS PER 24 HOUR PERIOD. REMEMBER ALL YOUR WATER GOES THROUGH YOUR SEPTIC SYSTEM, TOILETS, SHOWERS, DISHWASHERS, AND LAUNDRY. (MOST WASHING MACHINES USE APPROX. 45 GALLONS OF WATER PER LOAD.)
EX. IF YOU DO SIX LOADS OF LAUNDRY IN A 24 HOUR PERIOD AND THEN ADD SHOWERS AND TOILETS.
IT IS RECOMMENDED THAT YOU SPACE OUT YOUR WASH THROUGHOUT THE WEEK. YOU MAY EXCEED YOUR CAPACITY FOR YOUR SYSTEM CAUSING IT NOT TO FUNCTION PROPERLY.
Q. IF MY RED LIGHT COMES ON IN THE CONTROL PANEL OF MY SEPTIC WHAT SHOULD I DO?
A. THE RED LIGHT IS TELLING YOU THAT SOMETHING IS WRONG WITH YOUR SYSTEM. FIRST TRY PRESSING THE RESET BUTTON. SOMETIMES EXCESS PAPER PRODUCTS MAY GET WRAPPED AROUND THE AERATOR AND KICKS IT OFF. ALSO POWER OUTAGES MAY CAUSE THE LIGHT TO COME ON. IF THE LIGHT GOES OUT EVERYTHING SHOULD BE FINE. IF THE LIGHT COMES BACK ON CALL YOUR SERVICE PROVIDER.
WHEN IT COMES TO YOUR SINK, TAKE ARETHA'S ADVICE AND THINK!
R-E-S-P-E-C-T
DON'T:
POUR COOKING GREASE OR OIL DOWN THE SINK OR TOILET
RINSE COFFEE GROUNDS INTO THE SINK
POUR HOUSEHOLD CHEMICALS DOWN THE SINK OR FLUSH THEM
DO:
ELIMINATE OR LIMIT THE USE OF A GARBAGE DISPOSAL
PROPERLY DISPOSE OF COFFEE GROUNDS & FOOD
PUT GREASE IN A CONTAINER TO HARDEN BEFORE DISCARDING IN THE TRASH
FOR BATHROOM CARE,
TRY A LITTLE TENDERNESS
DON'T
FLUSH NON-DEGRADABLE PRODUCTS OR CHEMICALS, SUCH AS FEMININE HYGIENE PRODUCTS, CONDOMS, DENTAL FLOSS, DIAPERS, CIGARETTE BUTTS, CAT LITTER, PAPER TOWELS, PHARMACEUTICALS
DO
DISPOSE OF THESE ITEMS IN THE TRASH CAN!
PROTECT YOUR FIELDS
DON'T:
PARK OR DRIVE ON YOUR DRAINFIELD. THE WEIGHT CAN DAMAGE THE DRAIN LINES
PLANT TREES OR SHRUBS TOO CLOSE TO YOUR DRAINFIELD, ROOTS CAN GROW INTO YOUR SYSTEM AND CLOG IT
DO:
CONSULT A SEPTIC SERVICE PROFESSIONAL TO ADVISE YOU OF THE PROPER DISTANCE FOR PLANTING TREES AND SHRUBS, DEPENDING ON YOUR SEPTIC TANK LOCATION
IN THE MIDNIGHT HOUR
DON'T:
CONCENTRATE YOUR WATER USE BY USING YOUR DISHWATER, SHOWER, WASHING MACHINE, AND TOILET AT THE SAME TIME. ALL THAT EXTRA WATER CAN REALLY STRAIN YOUR SEPTIC SYSTEM!
DO:
STAGGER THE USE OF WATER-GENERATING APPLIANCES. THIS CAN BE HELPFUL ESPECIALLY IF YOUR SYSTEM HAS NOT BEEN PUMPED IN A LONG TIME
BECOME MORE WATER EFFICIENT BY FIXING PLUMBING LEAKS AND CONSIDER INSTALLING BATHROOM AND KITCHEN FAUCET AERATORS AND WATER-EFFICIENT PRODUCTS.
IF YOU HAVE ANY QUESTIONS, CALL KING BROS. AT 330-889-3451 AND ASK FOR MONICA