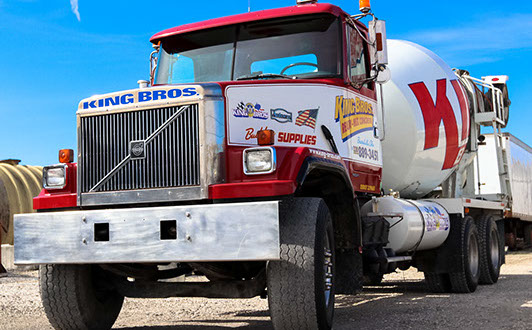 CONCRETE IS ONE OF THE MOST VERSATILE AND WIDELY USED BUILDING PRODUCTS. CONCRETE IS A MEASURED MIXTURE OF LIMESTONE OR AGGREGATE, SAND, WATER, CEMENT, AND CHEMICAL ADDITIVES TO CREATE A PRODUCT THAT CAN BE USED IN MULTIPLE AREA'S OF CONSTRUCTION.
CONCRETE DRIVEWAYS AND WALKWAYS CAN GREATLY ENHANCE THE APPEARANCE AND VALUE OF A PROPERTY. HEALTHY CONCRETE, HOWEVER, DOES NOT HAPPEN BY ACCIDENT. THOUGHTFUL PLANNING, A QUALITY MIX, PROFESSIONAL PLACEMENT AND THE PROPER CURING AND MAINTENANCE CAN PRODUCE BEAUTIFUL CONCRETE THAT WILL LAST FOR YEARS. THE TIME TO THINK ABOUT WHAT YOU WANT FROM YOUR CONCRETE IN TERMS OF APPEARANCE, PERFORMANCE, AND MAINTENANCE IS NOW~ BEFORE THE CONCRETE IS PLACED.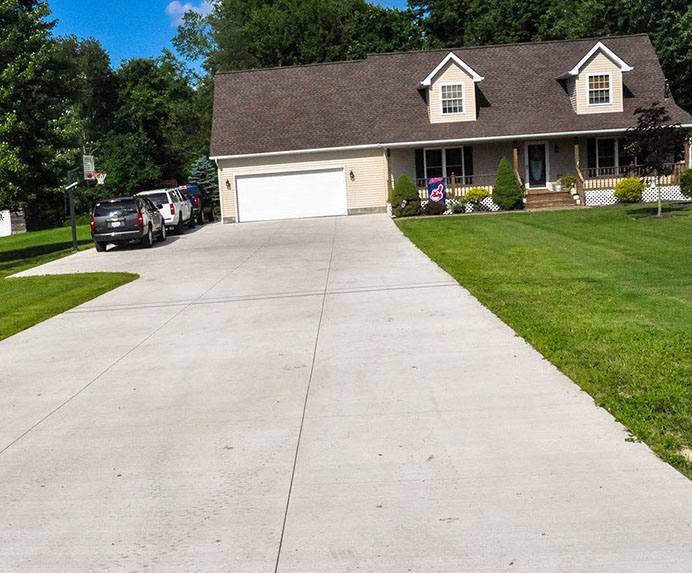 How Much Concrete Do You Need?

Thickness
inches
Width
feet
Length
feet
Cubic Yards
Depth
inches
Width
inches
Length
feet
Cubic Yards
WHAT IS SCALING?
SCALING IS A LOCAL FLAKING OR PEELING OF A FINISHED SURFACE OF HARDENED CONCRETE AS A RESULT OF EXPOSURE TO FREEZING AND THAWING. OCCASIONALLY CONCRETE PEELS OR SCALES IN THE ABSENCE OF FREEZING AND THAWING, OFTEN THIS IS DUE TO THE EARLY USE OF A STEEL TROWEL, OVER FINISHING, OR FINISHING WHILE BLEED WATER IS ON THE SURFACE.
UNIFORM APPEARANCE
IT SEEMS THAT MOST HOMEOWNERS ARE LOOKING FOR THEIR CONCRETE TO TURN WHITE QUICKLY AND EVENLY. IN REALITY, THE LONGER YOUR CONCRETE KEEPS ITS DARKER COLOR, THE BETTER IT IS RETAINING MOISTURE. THIS WILL ULTIMATELY RESULT IN STRONGER, HEALTHIER CONCRETE. YOUR ENTIRE DRIVE OR WALKWAY SHOULD EVEN OUT IN APPEARANCE OVER THE FIRST MONTH AFTER PLACEMENT. VARIATIONS OF DARK AND LIGHT AREAS DURING THIS TIME ARE NORMAL.
WHY DO CONCRETE SURFACES SCALE?
A. THE USE OF NON~AIR~ENTRAINED CONCRETE OR TOO LITTLE ENTRAINED AIR. ADEQUATE AIR ENTRAINED IS REQUIRED FOR PROTECTION AGAINST FREEZING AND THAWING DAMAGE. HOWEVER, EVEN AIR~ENTRAINED CONCRETE WILL SCALE IF OTHER PRECAUTIONS, AS LISTED BELOW, ARE NOT OBSERVED.
B. APPLICATION OF EXCESSIVE AMOUNTS OF CALCIUM OR SODIUM CHLORIDE DEICING SALTS ON CONCRETE. CHEMICALS SUCH AS AMMONIUM SULPHATE
OR AMMONIUM NITRATE, WHICH ARE COMPONENTS OF MOST FERTILIZERS, CAN CAUSE SCALING AS WELL AS INDUCE SEVERE CHEMICAL ATTACH ON THE CONCRETE SURFACE.
C. ANY FINISHING OPERATION PERFORMED WHILE BLEED WATER IS ON THE SURFACE. IF BLEED WATER IS WORKED BACK INTO THE TOP SURFACE OF THE SLAB, A HIGH WATER~CEMENT RATIO AND, THEREFORE, A LOW ~STRENGTH SURFACE LAYER IS PRODUCED. OVERWORKING THE SURFACE DURING FINISHING WILL REDUCE THE AIR CONTENT IN THE SURFACE LAYER, MAKING IT SUSCEPTIBLE TO SCALING IN FREEZING CONDITIONS.
D. INSUFFICIENT CURING. THIS OMISSION RESULTS IN A WEAK SURFACE SKIN, WHICH WILL SCALE IF IT IS EXPOSED TO FREEZING AND THAWING IN THE PRESENCE OF MOISTURE AND DEICING SALTS.
CURING CONCRETE
WHAT DOES IT MEAN?
WHEN THERE'S AN UNSIGHTLY CONCRETE DRIVEWAY, EVERYONE WOULD LIKE SOME WAY TO 'CURE' THE PROBLEM, BUT THATS NOT WHAT IS MEANT BY CURING CONCRETE. IT IS TRUE, HOWEVER, THAT HAD THE PROBLEM CONCRETE BEEN PROPERLY CURED, IT MAY NEVER HAVE GOTTEN SICK. CURING IS THE MAINTAINING OF A SATISFACTORY MOISTURE CONTENT AND TEMPERATURE IN CONCRETE FOR A SUFFICIENT PERIOD OF TIME DURING ITS EARLY STAGES SO THAT ITS DESIRED PROPERTIES MAY DEVELOP.
FREEZE-THAW RESISTANCE
CURING CAN ALSO HELP CONCRETE TO BE MORE DURABLE, MEANING RESISTANT TO DAMAGE CAUSED BY FREEZING AND THAWING. AS LONG AS THE HYDRATION PROCESS CONTINUES IN CONCRETE, THE CEMENT PORTION HARDENS AND BECOMES MORE DENSE. IF THE CONCRETE IS PROPERLY CURED, IT WILL BE LESS POROUS THAN UNCURED CONCRETE THUS
MAKING IT MORE DIFFICULT FOR WATER AND SALTS TO PENETRATE.
PROPERLY CURED CONCRETE IS ALSO MORE WEAR RESISTANT AND LESS SUSCEPTIBLE TO DUSTING AND SCALING.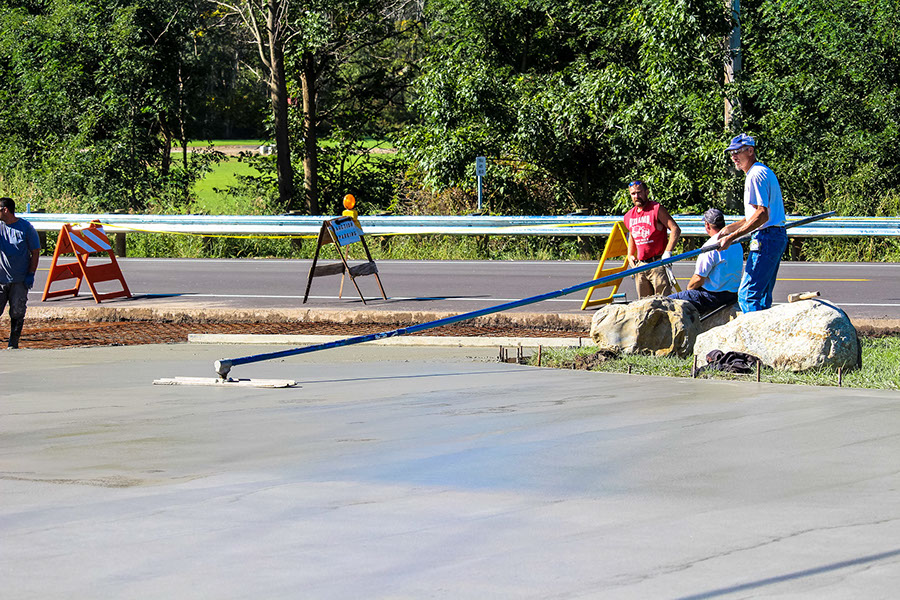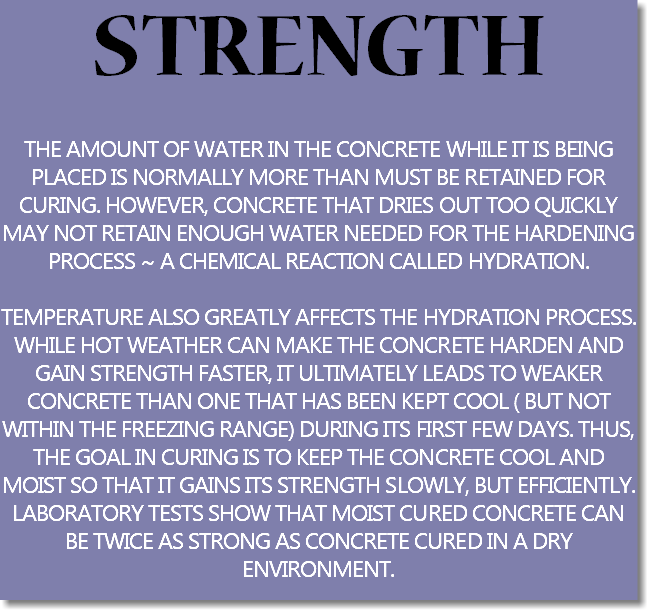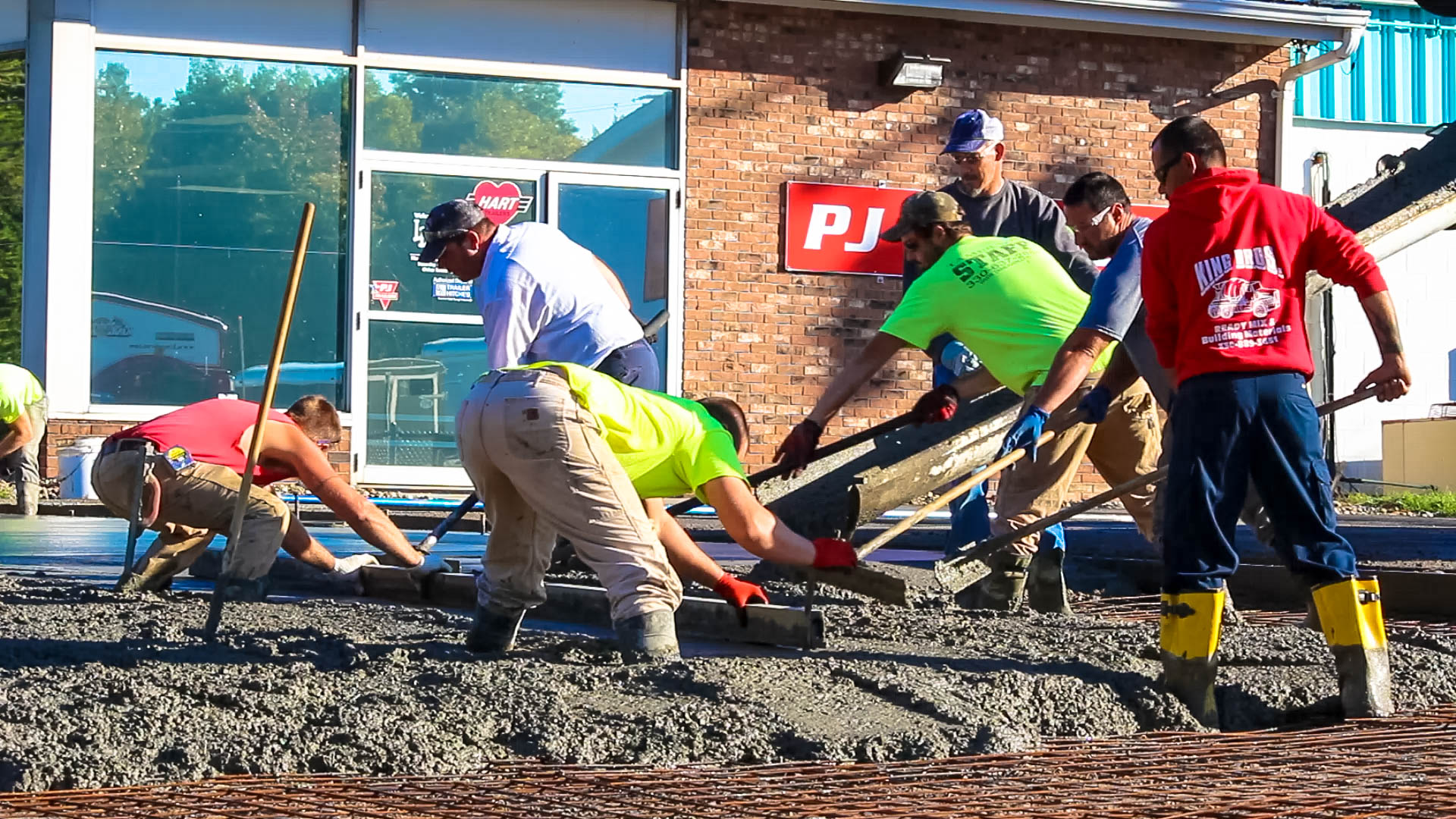 SEALING CONCRETE ~ ONGOING PROTECTION
JUST AS YOU PAINT THE TRIM ON YOUR HOME OR WAX YOUR CAR TO KEEP THEM LOOKING NICE AND PROTECT THEIR BASE STRUCTURES FROM DETRIMENTAL ELEMENTS, YOU SHOULD SEAL YOUR CONCRETE REGULARLY TO PROTECT ITS LIFE TOO. ALTHOUGH IT SEEMS IRONIC, IT IS TRUE THAT WHEN CONCRETE IS FIRST PLACED, WE WANT TO KEEP THE MOISTURE IN; ONCE IT HAS MATURED, WE WANT TO KEEP THE MOISTURE OUT. THIS IS ESPECIALLY TRUE FOR CONCRETE THAT WILL BE SUBJECTED TO THE FREEZING AND THAWING. THE SINGLE MOST IMPORTANT FACTOR IN MAKING CONCRETE MORE RESISTANT TO FREEZE~THAW CYCLES IS AIR ENTRAINMENT. AIR ENTRAINMENT IS THE PURPOSEFUL ADDITION OF TINY AIR BUBBLES IN THE CONCRETE DURING BATCHING. AFTER THE CONCRETE HARDENS, THE AIR BUBBLES VERY SIMPLY ALLOW ROOM FOR THE EXPANSION OF FREEZING WATER THAT MAY BE IN THE HARDENED CONCRETE. ALTHOUGH THE AIR BUBBLES MAY BE ENOUGH, YOU CAN ADD SOME ADDITIONAL INSURANCE BY LIMITING THE AMOUNT OF WATER THAT CAN GET INTO YOUR CONCRETE. YOU CAN DO THIS BY MAINTAINING YOUR CONCRETE WITH A SEALER DESIGNED TO KEEP OUT WATER AND DEICING SALTS.
SEALING YOUR CONCRETE USING A CONCRETE SEALER SUCH AS; POLYSEAL OR CURE~N~SEAL WILL HELP PROTECT YOUR CONCRETE FROM THE FREEZE~THAW CYCLES, WATER DAMAGE, AND DEICERS USED ON THE HIGHWAYS. IT RECOMMENDED THAT A CONCRETE SEALER IS APPLIED AFTER THE CONCRETE IS PLACED AND EVERY YEAR AFTER THAT.